Wednesday, Feb 24th, 2021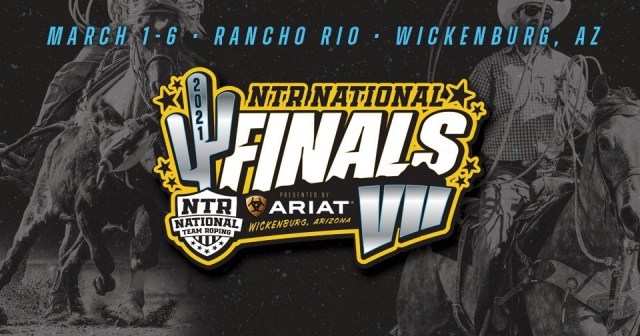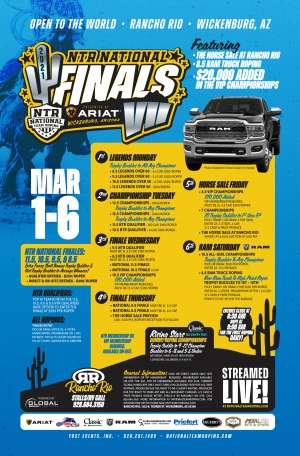 As we enter the seventh annual NTR National Finals presented by Ariat, we tip our hat to the Team Roping Capital of the World for their support of our sport. We thank the contestants who have continued to compete notwithstanding one of the most difficult seasons of our lifetime. We look forward to crowning the next wave of NTR Champions and wish each of you the best of luck in Wickenburg!
Fees. Entries into the National Finale (11.5, 10.5, 9.8 & 8.5) divisions will remain $250 per roper for qualified entries and are $400 for direct and on-site entries. If you have not yet qualified there are qualifiers early in the week, where the top 10 teams receive those discounted entries. Be sure to take advantage of that opportunity.
Age Caps. In 2020 we introduced the 21 and over age cap in the National 9.5 and National 8.5 Finales. This was received well and will continue this year. The National 11.5 and National 10.5 remain open to everyone. Once again, winners in these divisions will be taking home extra fancy Scott Thomas trophy saddles and top-of-the-line Gist Silversmith buckles along with some of the highest divisional payouts in the industry.
VIP Championships. For the third consecutive year we have added $20,000 to the 10.5 VIP and 8.5 VIP Championships. We want to reward those ropers who participate with us all year long in our bonus program. These ropings are also age capped at 21 and over, and you must have a current VIP membership. VIP memberships can be purchased, or upgraded, until the chute gate opens, so there's still plenty of opportunity for those big payouts.
The Horse Sale. You can view all 65 consignments to The Horse Sale at Rancho Rio online here: 2021 Sale Horses. Please, contact the owner of the horse, or horses, you are interested in prior to sale day. It really gives you an opportunity to ask questions and hear more about them. We are excited to welcome Trevor Brazile as a first-time consignor. In fact, this is the first sale in which he has ever offered a horse to the public. Read why he chose Smartys Dunny (Lot 29) and The Horse Sale at Rancho Rio on page 16 in The Arena.

Rising Stars. Last year we teamed up with Classic Rope, the Official Rope of the NTR, to bring a Rising Stars Championship Dummy roping to Rancho Rio. We're bringing it back, Saturday, March 6, at high noon, with prizes in three age divisions; 5 & Under, 6-8 and 9-12. We'll be awarding one trophy saddle to the 9-12 Champion, along with buckles, rope bags and other fun prizes in all divisions. These kids are TOUGH, you won't want to miss it.
Be sure to follow the NTR on social media (@nationalteamroping) for complete details as we get closer to Finals week and for up-to-date coverage throughout the week.