Classic Rope Official Rope of the NTR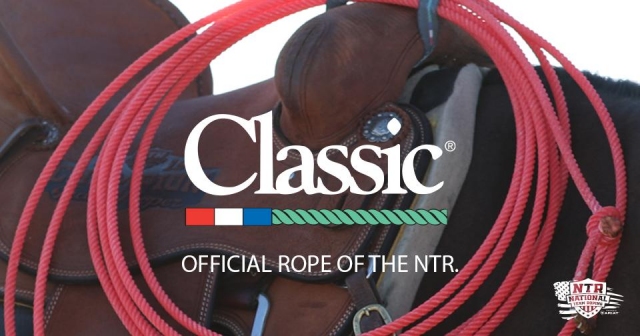 Innovation and leadership are at the core of Classic Rope's DNA. Since 1986, Classic Rope has pursued to technologically advance the team rope to improve quality, feel, and performance, helping ropers compete and reach their greatest potential. Classic Rope is proud to be the Official Rope of National Team Roping.
Classic ropes are individually made to order using the latest blends of high-tech nylon and polyester fibers. We take great pride in our superior craftsmanship and competitive edge they offer the athletes that use them. Innovation is a catalyst for improving the way we do business and an opportunity that has been integrated with every phase of the rope production process. We are committed to making the sport better for all ropers with investments in associations, events, and clinics to spur positive changes and advancements benefiting ropers around the globe.
Team roping today as a sport makes up the largest demographic within the western industry, resulting in the advancement of our technology, manufacturing processes, machinery, and equipment. We have changed how we made our ropes to accommodate ropers' requests for preference in feel, body, rope size, and tip weight.
More valuable than our ropes are the hands that make them and ship them. We are a unique group of individuals actively involved in the sport and with horses, daily. We are a team of driven individuals, more dedicated and passionate about the industry than you can find anywhere with the united belief that everything we do today, can be improved upon tomorrow. This philosophy runs deep throughout our culture and our desire to improve and advance our technology in the sport of team roping.
We are leaders. We are innovators. We are competitors. We are Classic. We would like to thank you, our valued customers, for trusting us. It is through your success; we love to make ropes. Find your Classic Rope now at ClassicRope.com.