RICHARDS & DE LA CRUZ: NFR BOUND, WE THINK.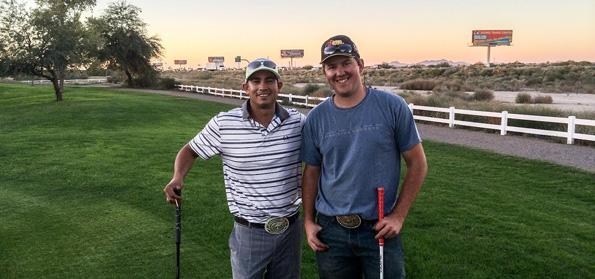 As the clocked ticked down to the end of the 2014 PRCA season, all eyes were upon the ProRodeo website to see just who had qualified for the Wrangler National Finals Rodeo. However, as soon as the list came out there were two ropers left scratching their head as they sat in the 16th hole; even when they knew they had won more money than the results showed. .
Arizona header, Tom Richards, may be preparing for his first trip to the Wrangler National Finals Rodeo now, but it hasn't been "smooth sailing" for the 24 year old and his partner, Cesar De La Cruz. "We knew we had won money the last week in Omaha before the season ended that wasn't showing on the results. Going into Omaha I knew I had to win and Cesar had to place no lower than third; Al Bach and I split the win and Cesar place third," said Richards.
Achieving exactly what they had set out to do to qualify in the top 15 for the WNFR, two days later the results changed after all their money won had been tallied. Now sitting in the 15th hole, Richards still hasn't quite grasped the fact that he WILL be swinging his rope in the Thomas and Mack Arena.
However, things haven't quite settled down in regards to the "results" and an appeal has been since filed by Chad Masters and Kinney Harrell; who were bumped to 16th in the world. "It all got a little blown out of proportion but I'm just focusing on the WNFR and what's ahead. Basically, it's all come down to the turn out and unofficial, same day conflict, where you can turn out and unofficial one of the two if you're up in two rodeos on the same day."
Moving forward, the duo aren't letting the fuss get to them and Richards couldn't be more happier, or feel more confident, having a seasoned WNFR roper like De La Cruz by his side. "I'm excited. I feel like we shouldn't have to fight for all of this but I'm just ready to get there and get the job done. I'm not thinking too much about a "game plan" but I will set up an arena to the measurements of Vegas to get a feel for it."
Richards and De La Cruz have only been roping together since September this year, but have had a taste for success winning two and placing in most of the eight rodeos they competed in together. "That was a good eight days; especially leaving with $20,000 in prize money," laughed Richards.
With two horses on board bound for those bright city lights, Richards will rely mainly on 'Big Money,' his 11 year old QH but plans on hauling a new horse he recently bought. Now that the "controversy" is somewhat behind him what exactly would Richards say he learnt while rodeo full time this past year? "I always thought I was putting in 100% but I've since realized I wasn't. You've got to keep going even if you have a bad month because the next month you might not."