12 year old tops 530 teams!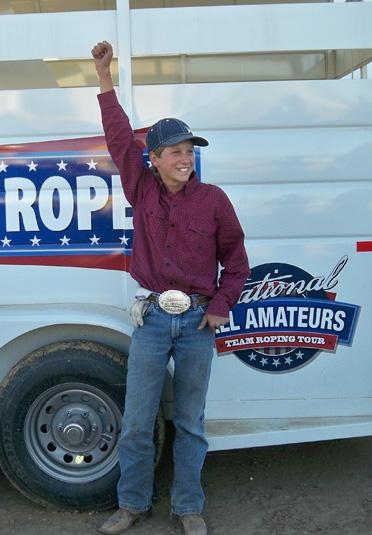 Typically it's seasoned veterans who win the big prizes. In our experience, 12-year-old ropers usually can't catch three steers in a row. Well, Colten Fletcher isn't your typical 12-year-old. The Canadian kid bested the field on Sunday at the National All Amateurs' Arizona Bowl to take home the high point championship horse trailer. And, by the way, he's a heeler – and he's not tied on.
The trailer was awarded to the high-point roper over two ropings – the No Wolves Allowed #8 and our new #7 Roping. After the second roping of the day, Colten was tied with heeler Amanda Kooiker for the trailer. A three-steer rope-off ensued. Fletcher and Kooiker got to choose their header in the rope-off. Colten coolly waited while his 13-year-old cousin Dawson Graham rushed to the trailer to re-saddle his head horse. After three runs, Dawson and Colton came out on top by roping three steers in 27.01 seconds!
Congratulations also go to Saturday's trailer winner, Kansas heeler Steve Zumbrunn. Steve accumulated 20 points between the #10 Roping and the #9 Roping to top 480 teams on Saturday. Total payoff for the weekend was $69,950.
The Arizona Bowl sets the stage for the National All Amateurs' Sun Country Finals, less than two weeks away! We'll see you there, March 1st through 3rd at Dunn's Arena in Litchfield Park, Arizona.