HEADING, HEELING, BARREL RACING, TRAINING – SADIE RICKS CAN DO IT ALL.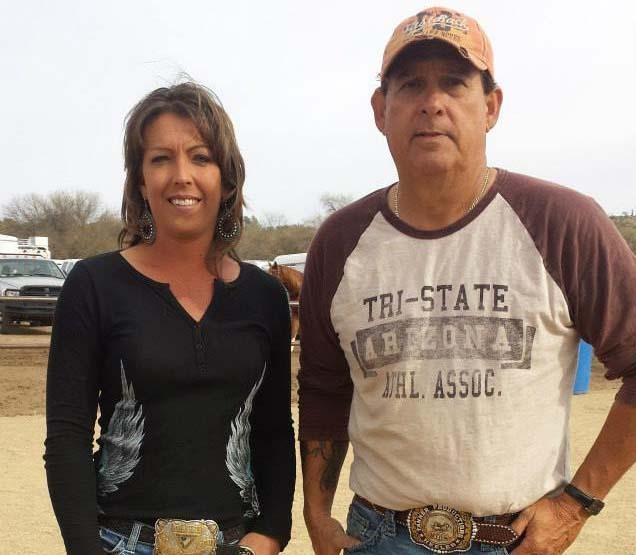 In a mainly male dominate sport, Nevada team roper Sadie Ricks, 'holds her own' for a woman who didn't come from a rodeo family; but was raised rodeoing all her life. Competing in team roping, barrel racing and breakaway roping, Ricks had heeled for as long as she can remember but made the switch to heading four years ago and the rest is as they say history.
"I decided I wanted to try heading one day, so grabbed my 19 year old breakaway horse and entered up in Buckeye and won it," laughed Ricks, "I was hooked after that." Although team roping has become a priority, Ricks still barrel races when she can as well as training horses and giving lessons to local junior girls. With all the success she has had in the arena, she says that she couldn't have done it without the support of her husband and parents.
When asked about competing against other women and men in the sport, Sadie replies "I don't see roping as the men against the women; some of the best ropers are women but perhaps family is more important than going on the road full time. The team roping community itself is so great and everyone ropes together; not against each other. We're all great friends and I don't see it as a competition, my goal is simply to get better myself and get a higher number."
Having her number raised twice in 2013, from a three to a four plus, Ricks has been excited to see that number rise more than anything else. "It means that I'm getting better and the team roping industry recognizes that I'm getting better
Ricks advice for women who want to get into team roping, "Get some help from whoever you can and just get out there and do it. Find someone to look up to and coach you along. It is intimidating. Find someone who can explain things and how it works and then just go and start – everyone misses."