2015 National Nine Finale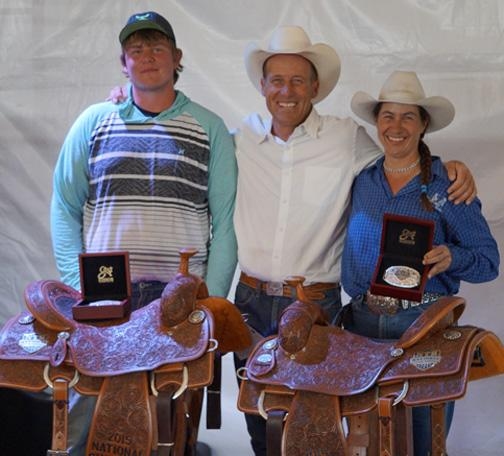 $100,000 FOR FIRST AT THE NTR NATIONAL NINE FINALE
What an exciting, electrifying culmination to a year of anticipation during the finale of the National Team Roping's National Nine! For an introductory, experimental idea, the finale certainly didn't disappoint! It may have taken some time for ropers to understand just what all was up for grabs . . . that for a $100 man entry fee that they could as a team could rope for $100,000.

$100,000, like a carrot on a string, suddenly became reachable to a whole lot of ropers. 500 times return on an entry investment started grabbing everyone's attention! The short go of the National Nine at Rancho Rio on March 7, was viewing par to any professional roping event. Nothing fell apart. Every bleacher was packed and standing room only for viewing. There where 35 teams that caught three steers that advanced to the short round. Down to the final three, the flag dropped on 19 year old header Trace Steele and his focused, consistent heeler, Tamara Mann. They stretched their steer in 7.88 for a total 4 head time of 34.73 seconds. But the money wasn't in their pocket until the high call team slipped a leg and delivered their victory and the $100,000!
The consolation rounds were adrenaline filled action as well. If nerves knocked a team out of the National Nine, they were still allowed another chance to win big by roping in an additional consolation round. The top twenty consolation teams went to their own short go. Cleaning house on the consolation teams was Bert Croteau and Art Gallais with a time of 13.8 on two head, that rewarded them $6,000.

The National Team Roping Tour (NTR), founded by veteran event producer, Ty Yost, in 2014, is an original concept that is cementing its validity. Seeking to reverse the trend of large payouts from higher fees, focusing instead on providing high returns on minimal entry fee investments. Better than a Las Vegas slot machine, the Finale attracted 220 teams and rewarded 98 of them with checks totaling $313,000.
National Nine Finale
March 7, 2015
Rancho Rio
National Team Team Roping
National Nine Finale
1st in Ave - 34.73 on 4, Trace Steele & Tamara Mann $100,000.00
2nd in Ave - 36.21 on 4, Porfirio Dicochea & Raymond Rodriguez $35000.00
3rd in Ave - 36.98 on 4, Larry Wehling & Garrett Grieve $25000.00
4th in Ave - 37.21 on 4, Mike Lutch & Seth Schafer $17000.00
5th in Ave - 37.40 on 4, Martin Martinez & Paco Calixtro $14000.00
6th in Ave - 39.33 on 4, Raymond Kerr & Amanda Kooiker $10000.00
7th in Ave - 40.92 on 4, Dan Cross & Jim Caines $7500.00
8th in Ave - 41.37 on 4, Sam Scott & Don Charging $6500.00
9th in Ave - 41.67 on 4, David Hughson & Ron Schmidt $6000.00
10th in Ave - 41.84 on 4, Catie Lohse & Jim Stoddard $5000.00
11th in Ave - 43.69 on 4, Ryan Hatch & David Hatch $4000.00
12th in Ave - 43.88 on 4, Bob Crosthwaite & Mac McCoy $4000.00
13th in Ave - 44.86 on 4, Don Dechant & Gary Dixon $4000.00
14th in Ave - 46.73 on 4, Rigo Carmona & Charlie Johnson $4000.00
15th in Ave - 47.78 on 4, Tami Blasingame & Scott Salo $4000.00
16th in Ave - 48.81 on 4, Pat Danehey & Mike Weatherly $2000.00
17th in Ave - 49.41 on 4, Sam Scott & Sandy Olson $2000.00
18th in Ave - 49.98 on 4, Frank Linza & Johnny Torres $2000.00
19th in Ave - 51.86 on 4, Malcolm Davis & Harold Barnes $2000.00
20th in Ave - 51.99 on 4, Roger Gunsch & Bill Gover $2000.00
21st in Ave - 53.75 on 4, Trevor Gonzales & Filipe Furtado $2000.00
22th in Ave - 28.19 on 3, Alan Alduenda & Richard Mayfield $2000.00
23th in Ave - 28.23 on 3, Len LeBlanc & Stan Simpson $2000.00
24th in Ave - 33.12 on 3, Jamie Payton & Nathan Brown $2000.00
25th in Ave - 33.54 on 3, David Hughson & Roger Halverson $2000.00
26th in Ave - 34.70 on 3, Mike Lutch & Herb Snow $2000.00
27th in Ave - 35.26 on 3, Stewart Allen & Clayton Overson $2000.00
28th in Ave - 35.47 on 3, Steve Lydon & Walt Stein $2000.00
29th in Ave - 36.59 on 3, Barbara Kenney & Nathan Brown $2000.00
30th in Ave - 37.82 on 3, Mary Vermedahl & Walt Vermedahl $2000.00
31th in Ave - 38.80 on 3, Sam Rauch & Kee Etsitty Sr. $1000.00
32nd in Ave - 40.12 on 3, Brett Hickey & Chuck Graham $1000.00
33rd in Ave - 41.17 on 3, Rochelle Fielder & Brent White $1000.00
34th in Ave - 42.02 on 3, Annette O'Berry & Phil Moffitt $1000.00
35th in Ave - 45.86 on 3, Sherry Ellis & Cory Clark $1000.00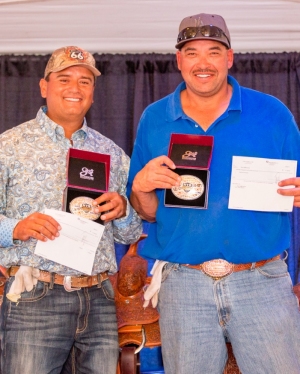 Consolation
1st - 13.80 on 2, Bert Croteau & Art Gallais $6000.00
2nd - 16.39 on 2, Adele Brown & Joel Parker $4000.00
3rd - 16.41 on 2, Dave Bullock & Brad Schieck $3000.00
4th - 16.75 on 2, Chance Ovnicek & Pablo Good $2000.00
1st Round Payoff
1st - 6.96, Trevor Gonzales & Filipe Furtado $3000.00
2nd - 7.42, Rigo Carmona & Charlie Johnson $1000.00
3rd - 7.71, Rigo Carmona & Bodie Mattson $1000.00
2nd Round Payoff
1st - 5.72, Jeff Padilla & Brad Schieck $3000.00
2nd - 6.92, John Teigen & Bill Mankin $1000.00
3rd - 7.14, Shane Barlow & Don Charging $1000.00
3rd Round Payoff
1st - 5.24, Lorenzo Carbajal Jr. & Nick Black $3000.00
2nd - 5.88, Raymond Kerr & Irwin Tescher $1000.00
3rd - 6.03, Nora Hunt-Lee & Lance Johnson $1000.00
Shortgo
1st - 6.84, Sam Scott & Don Charging $2000.00