Wednesday, Jun 23rd, 2021
ENTER NOW! #9.5 TRUCK ROPING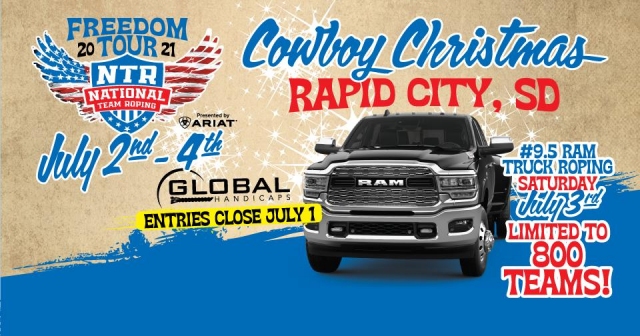 Online entries are now open for National Team Roping's #9.5 RAM Truck Roping which will take place Saturday, July 3, at the Central States Fairgrounds in Rapid City, South Dakota, during the Cowboy Christmas Freedom Tour. The #9.5 RAM Truck Roping is limited to the first 800 teams. Entries opened June 1 and will close July 1 at 3:00 PM MST or when full. Onsite entries will close at 8:30 am on Saturday if available.
#9.5 Ram Truck Roping Details
• LIMITED TO 800 TEAMS
• PICK 1 DRAW 1 OR DRAW 2 FOR $200, ENTER 3X, 4-STEER, HANDICAPPED, 5.5 CAP
• 1 NEW RAM 3500 WILL BE AWARDED TO THE HIGH POINT ROPER
• POINTS AWARDED 1ST-15TH IN THE AVG
• ONLINE ENTRIES CLOSE JULY 1 AT 3:00 PM MST OR WHEN FULL
• ONSITE ENTRIES CLOSE AT 8:30 AM SATURDAY (IF AVAILABLE)
Online Entry Details
1. Both YOU AND YOUR PARTNER must have a current Global Handicap card before you can enter. Login at globalhandicaps.com to purchase.
2. FULLY PAID TEAMS only! (You must know your partner's roper ID number.)
3. There will be absolutely NO ONLINE CHANGES! Example: You may not enter the draw and then change to a pick partner.
4. ENTER ONLINE at globalhandicaps.com under the 'MEMBERS' tab.
5. You MUST PURCHASE your NTR Membership ($40) or NTR VIP Membership ($140) onsite BEFORE YOU ROPE in Rapid City. You can download the NTR Membership form and bring it pre-filled to the event to save time at the entry office.
6. All other divisions will be enter onsite only. View the flyer for full event schedule and details.
Rapid City marks one of three NTR Cowboy Christmas events with the others taking place in Mormon Lake, Arizona, July 2-4, and Hamilton, Texas, July 3-4. In addition to the full NTR schedule, there will also be a World Series of Team Roping Qualifier at Rapid City on Thursday, July 1. Visit wstroping.com for details.