1st VIP Bonus Winner Awarded!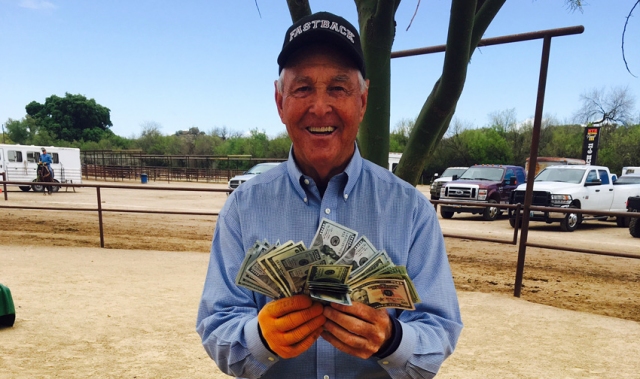 #9 VIP Bonus Winner - Bill Phillips
Low Fees, Big Payouts
Bill Phillips, Cody, Wyo., picked up a fistful of NTR VIP Bonus Cash when he won the #9 Qualifier at Rancho Rio on Saturday, April 1. The first 2017 Qualifier was also the first of many events in 2017 that will offer VIP Bonus money to our winners. With his $2,500 bonus cash plus his half of the $2,180 average payout, Phillips headed home with a grand total of $3,590.
VIP Membership Explained
New this year, the NTR is offering a VIP membership. Special VIP cash bonuses will be up for grabs at our nationwide events throughout the year. If the average winners of a bonus roping are VIP members they will be awarded the advertised cash bonus. VIP memberships are $140. If you already have a current 2017 NTR membership or a free Legends membership you can upgrade to VIP status for $100. You must be a current VIP member prior to the roping to be eligible for the VIP bonus. (VIP cash bonuses will be advertised per team. If only one roper is a valid VIP member they will receive their half of the advertised bonus cash.)
Become a VIP Member Today!
For more information on becoming a VIP member click here.