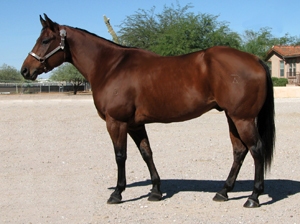 Lot #19 - 2005 Gelding
#19 GFR SPURS PERFECTION
JACKS SPUR TWO

SPUR MY BRITCHES
ECKMANS BRITCHES
RED CEDAR BARK
ROAN SIOUX REP
SIOUX REP
#4669727 – BAY GELDING – 2005
CONSIGNOR: GENE MILLER
MR JUSTICE JACK
SPURS BLUE JOSEY
TEE JAY BLUE STEEL
MY PAL ANN
FANCY ROAN BAR
JENNY LEE BARK
REPETITIOUS
BALDA SOUIX
This is a 2005 classy bay heading gelding with enough run for the WSTR. He scores
and rates great on slow cattle. He is sound, no buck, and is stout. He also runs smooth
to cattle. This horse has a lot of handle on him and he will listen to you on the corner
and will not duck out. He is being hauled to jackpots in AZ by Gene Miller.