Chris Navarro on clay and Corrientes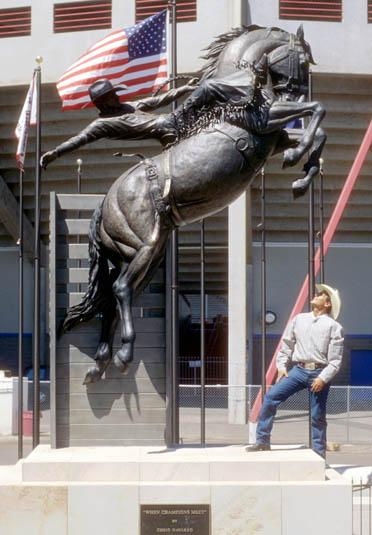 Champion Lane Frost
One of the NAA's most successful competitors is Chris Navarro, a 4E header who follows the NAA's Sun Country Tour from his winter home in Sedona, Ariz., and the Western Frontier Tour each summer from Casper, Wyo.
While a lot of year-round team ropers are also snowbirds, they're usually retired. Navarro, however, stays quite busy with work – he's been sculpting professionally since 1986. His subjects include wildlife such as elk, eagles and grizzly bears, but also many horse and cowboy-related subjects, such as the bronze of a bulldogger that Wade Sumpter won this year at the Calgary Stampede.
While Navarro's pieces are in several galleries throughout the country, he's best known for his large outdoor bronze monuments. For instance, he created the sculpture of Lane Frost that greets visitors to Cheyenne Frontier Days. Memorializing the bull rider was Navarro's idea just a few years after Frost's 1989 death in the arena there.
"When he got killed, I thought somebody should do something to tell the story," said Navarro. "The rodeo committee turned me down, so I raised all the money to pay for it by pre-selling 18-inch bronzes of it. All of those people who made it possible, their names are listed near the base of that monument."
Today, the 15-foot monument is Navarro's all-time favorite and is wildly popular with tourists and rodeo fans. But it wasn't easy. After working on it nearly a year, on March 6, 1993, the foundry where Navarro was working – and sleeping – in Cody, Wyo., caught fire.
"It's hard to believe that was 20 years ago," he said. "I had wanted the sculpture to be as authentic as possible, so his parents had given me Lane's hat, chaps, belt buckles and boots. They'd asked me not to take the spurs off the boots, because those were the boots he was wearing when he died."
The flames from an electrical short forced Navarro to jump out a second-story window at 3:30 a.m. When firefighters settled the blaze, it had destroyed most of his tools and damaged the nearly-done sculpture. All that were left of Lane's boots were the spurs.
But working 14- and 16-hour days, Navarro went back at it and had the bronze done in time to dedicate that spring. It was a passionate project for Navarro, himself a former bull rider and Texas native. The son of a career military officer, Navarro lived all over America and at times in Europe, graduating from high school in Madrid.
"Since I was real young, I always wanted to be a cowboy," he said. "It was an experience that spoke to me."
At 18, he arrived in Wyoming where he didn't know a soul, simply because it was 'the Cowboy state.' After riding bulls and bareback broncs for Casper College, he remained in Wyoming and was working in oil fields when he fell into sculpting by accident after seeing the work of a local sculptor.
"I thought maybe I could do something like that, so I went to an art store, bought some supplies and just started," he said. wanted to do with the rest o"My first piece was a bull rider I did in 1980, called 'Spinning Ande into a bronze, you've got to be excited about it," he said. "Most of the work I do means something to me. The thing about sculpture is that it's three-dimensional like life itself. You can touch and feel it; it has substance."
Navarro's wife, Lynne, is a competitive tennis player, while Chris regularly goes running each winter in the red rocks around Sedona, which the 57-year-old says helps his roping. Navarro's son, the recently married J.C., is a former college football player and PBR bull rider who continues to live in North Carolina near Navarro's friend Jerome Davis. And his daughter, Natalie, is an event planner in Chicago.
This fall, Navarro is working on a life-size sculpture of a tyrannosaurus rex that will be mounted by a Casper museum in June 2014. And this winter he'll operate the Navarro Gallery in Sedona for the 13th year. Navarro sculpts sometimes for 12 hours at a time, because he loves it. But he loves roping as much, and most weekends find him making the 250-mile trip to rope around Phoenix.
"I always go to Ty Yost's ropings because they get like 300 teams," he said. "That's pretty rare anymore. And at those events you're never taken out of the roping because of a bad steer, which can happen at other places."
Team roping, he freely admits, is an addiction.
When Navarro got his hand caught in some coils when roping 10 years ago, it required surgery and his friends asked why he would risk the hands he uses to sculpt – to make a living – in a hobby like team roping.
"I told them that if I could quit, I would," he cracked. "When they pulled the pin back out of my hand, I was roping a couple days later."
Navarro has roped for years on a large bay horse named Man that he finished himself.
"Have you seen the movie, 'A Man Named Horse' about the man the Sioux use as a beast of burden?" asks Navarro. "Well, I have a horse named Man."
But about a year ago he bought a 13-year-old red roan named Hank from a Casper roper that the horse had bucked off and injured.
"Less than 24 hours after I bought him, I won a roping in Riverton," said Navarro. "He handles cattle good and has a lot of rate so he's easy to rope on."
Navarro would have loved to attend the Western Frontier Tour Finals in Rapid City. But every year, it's at the same time as the Jackson Hole Fall Arts Festival, where he participates in a "QuickDraw" sale in which he has 90 minutes to create a sculpture that is later sold at live auction.
"I have to work to pay for my roping, but I wish my roping would pay for my work," he jokes.
For more about Navarro's art, visit navarrogallerysedona.com, where you can purchase his 2009 book, "Chasing the Wind."