Wednesday, Nov 10th, 2021
Rope in the Daylight at Night!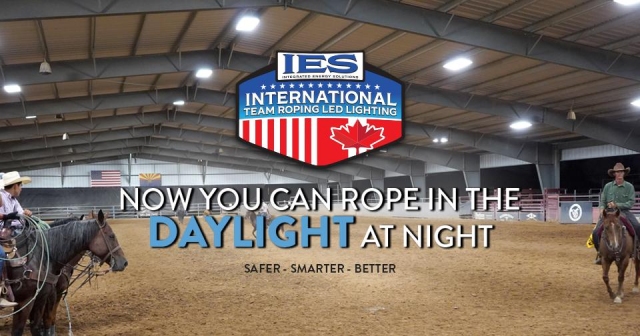 For Immediate Release
Date: October 28, 2021
Surprise, AZ - Now, roping at night does not mean roping in the dark! A recent survey by the Equine Network shows that 83.3% of its members rope at night when they practice. Yet, less than 20% of these ropers use LED lights, which are proven to be the safest and best arena lighting option. For this reason, IES International Team Roping LED Lighting, the newest national sponsor of WSTR, USTRC and NTR, is dedicated to bringing very affordable LED lighting options to all arenas across the US and Canada for the first time.
"We have been in the lighting and energy solutions business for almost two decades," explained Bill McIvor, VP IES Ventures USA. "Because of our history in the lighting and renewable energy industries, we can buy directly from the manufacturer. For this reason, we now have the ability to make LED lights very practical for the everyday roper. We can handle any lighting need including providing our new long lasting and durable Fiberglass Reinforced Plastic (FRP) poles. We even offer very affordable financing options if needed."
According to Trevor Logan, VP of IES USA Farm and Ranch Division and a team roper himself, "Safety when practicing is our top priority. LED lights are 70% more efficient, do not require a warm-up time and because they create light that is the closest to natural light, they offer the safest daylight-type experience when roping indoors or at night."
"When IES International Team Roping LED Lighting first approach me about being a sponsor of WSTR, USTRC and NTR, and once I learned more about their background in renewable energy and in providing LED lighting solutions, I saw them as a perfect fit for us," said Lory Merritt, Equine Network Team Roping Director of Sales.
For more information on IES International Team Roping and the very best LED arena lighting options they have available, visit iesarenalights.com. To get an LED arena lights quote today call Trevor Logan directly at 817-776-2143 or send him an email at tlogan@iesventures.com.
Remember, always rope SAFER – BETTER – SMARTER!