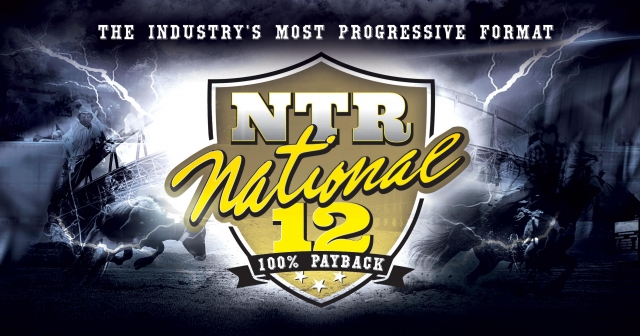 NTR's $100,000 National 12
With the success of the NTR's National 9 and National 8 Finales, along with multiple requests from the higher-number ropers, we introduced the National 12 early this year. Similar to the other Finales the National 12 is GUARANTEED to pay $100,000 to the winning team. However, with only 15 qualifiers, and the top 10 teams qualifying, no more than 150 teams will compete in March during the NTR National Finals. As the season has progressed we have continued to listen to the ropers and have made several changes to the original format. Effective immediately, the National 12 will now be 100% payback at the qualifiers as well as the Finale. This alone makes the National 12 one of the most progressive formats in the industry. But, we're not stopping there. Additional changes are as follows:
1. No Stock Charges. We are doing away with ALL stock charges. This means both the Qualifiers and the Finale will have 100% payback. ($250 of the entry fee will be paid back at each qualifier in it's entirety (100%), and the remaining $750 will be paid back 100% at the Finale.)
2. No Age Cap. There will no longer be any age caps in the National 12.
3. Limited Direct Entry. At some of the the earlier qualifiers there were only a couple of teams that qualified for the Finale, in those cases we are opening up the remaining positions to direct entry. There are only 15 spots currently available. The direct entry fee will be $1,500 per man/$3,000 per team. However, in no way will the total teams in the National 12 exceed 150 teams.